Last Updated:
12.15 Monday 20th October 2008
2Tone is a registered trademark
Patents Registered and Pending
© 2008 Canday Medical Ltd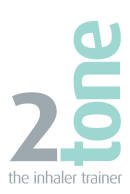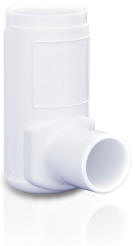 Your inhaler is only as good as your inhaler technique
Homepage for the 2Tone Trainer ( www.2tonetrainer.net www.2tonetrainer.com www.2tonetrainer.co.uk www.2tonetrainer.info ) - inhaler training device.
This site helps to explain how pressurised metered dose inhalers work, and how to use them to best effect - maximizing the amount of medication or drug that reaches the lungs, and minimising the risk of side effects. The following pages are relevant to : asthma inhaler technique puffer pMDI inhaling correctly poor incorrect correct COPD drug delivery aerosol lungs oropharynx throat side effects candidiasis thrush oral hoarse sore inspiratory flow speed dry powder
BBC Television News (Video) 2Tone Trainers in use with Community Pharmacists (Isle of Wight Primary Care Trust)
2Tone is a handy device that trains you to inhale at the correct speed, helping coordination, minimising waste and maximising the benefit your inhaler can give.
Lecture handout "Patients do the Silliest things - Inhalers and Getting the most from them"
Lecture handout "Sherbet Fountains and Inhaler Devices - What do they have in common ?"
The speed at which you breathe in through your inhaler matters and, if you're using the most commonly-prescribed inhaler (the "metered dose inhaler" or "puffer") you, and your healthcare professional are probably doing it too fast.




NOW AVAILABLE from DynamiTech Medical Inc., specialist respiratory equipment supplier Distributor, U.S.A.




----------------------------------------News and Updates Below----------------------------------------